PHILOSOPHY
Students at Shikha Academy are bright, motivated and eager to succeed. They constantly challenge each other as well as our teachers and have an insatiable desire to educate themselves. In terms of personality, while there is a strong sense of discipline and an inclination to be a good person, they also have a terrific and unique sense of humour and a very inspiring positive outlook to life. As teachers, it is a joy to teach students that have such a genuine love for learning.
At Shikha Academy, we believe the role of education is to
Establish strong foundational knowledge across all domains
Discover those domains that students are passionate about
Build expertise and mastery of such domains
Develop the ability to transfer knowledge, skills and competencies across domains
Create a strong sense of moral identity and responsibility towards oneself and others
Utilise these knowledge, skills and competencies to solve the problems of the world
THE ASI MODEL OF TEACHING AND LEARNING
Our belief about education practices is based on encouraging the three dispositions that students must possess to increase learning (Perkins and Ritchhart 2004 from Project Zero at the Harvard Graduate School of Education): Ability, Sensitivity and Inclination.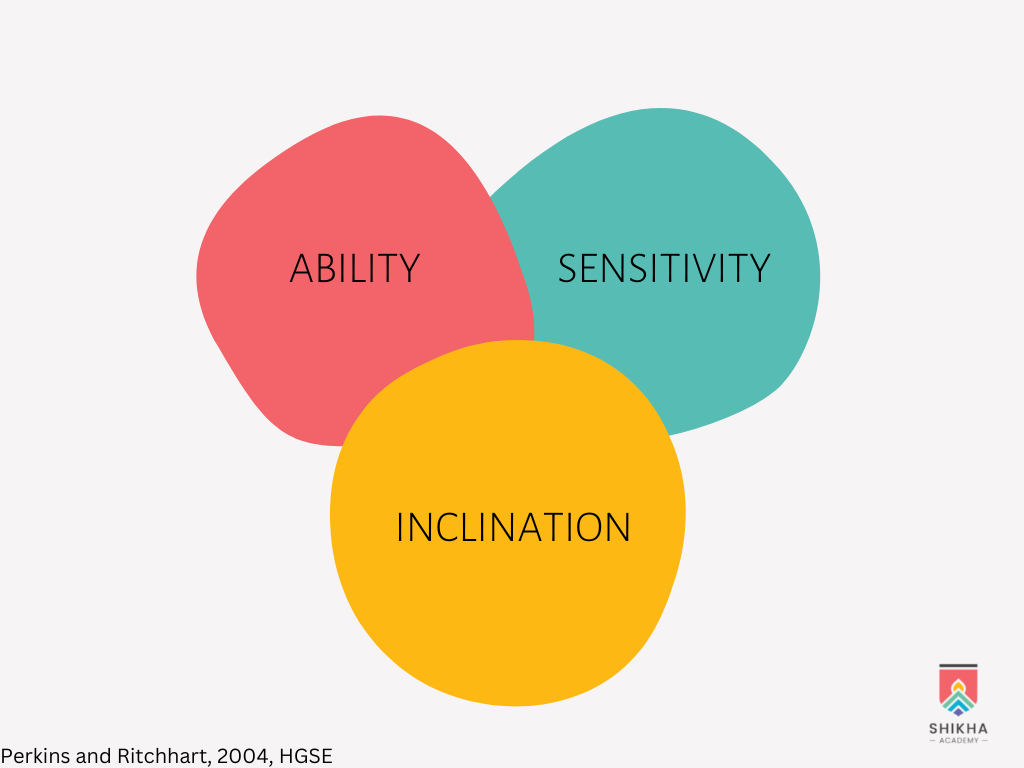 Ability refers to the foundational knowledge and 21st Century skills such as mastery of content or expertise in problem solving processes.  
Sensitivity or far transfer refers to whether a student can recognise the right moment or situation to apply relevant knowledge, and what that relevant knowledge is across their experiences across varied domains.
Inclination concerns whether students are intrinsically motivated to invest effort into thinking and problem solving. 
SUBJECTS
Our students attain knowledge, skills and values structured through the following subjects:
Languages: There is a strong emphasis on reading, speaking and writing through the languages. We believe in language learning through immersion and real-world application. In this regard, much of the content used to teach language is interdisciplinary. For example, apart from rich literary texts, students are assigned science and humanities text in English classes, to not only improve English skills, but learn specific vocabularies and terms needed for use in real world domains.
Humanities: Through a focus on "how people live," we explore personal, national and global issues through multiple perspectives across the related domains of history, geography, civics, economics and enterprise. Skills are in focus here, rather than content. Research, analysis, evaluation and communication of specific texts, artifacts, people, locations and decision are explored. Enterprise as a course has been designed specifically to create an entrepreneurial mindset in the students through the start and liquidation of real life businesses through the duration of the course.
STEM: We look at science from a micro to macro view in the four domains of life sciences, physical sciences, chemical sciences and earth sciences. The fifth and most important domain encompasses scientific thinking, design and engineering. Computer science is taught in a wholly project-based methodology, with problem solving at the heart of every lesson. Mathematics
The Arts: We believe in the power of art as an expression of individuality, identity and emotion. Here, rather than beginning with technique and theory, we first learn how to represent ourselves with power and feeling.
Sports and Fitness: The importance of a fit body cannot be overstated, and it is important to develop good life habits of regular exercise. Apart from the cognitive benefits of mastering a sport, the connections and collaborations developed and strategies employed have learnings for lifelong experiences and challenges.
Work and Life Skills: We are training students for the next generation of jobs and enterprises, and as such, skills including effective communication, an understanding of one's personalities, strengths and weaknesses, financial literacy, digital mastery and etiquette are all tools that can be employed for success in future endeavours.
Capstone Projects: At Shikha Academy, projects are the best form of pedagogy, and learning by doing is our mantra. Every subject has project assessments embedded within the curriculum and at the end of the term we expect capstone interdisciplinary projects, presented in front of an authentic audience, as a culmination of learning and evidence of mastery.
FINAL ASSESSMENT
Students at Shikha Academy will complete the Cambridge IGCSE board exam in Grade 10 and the Cambridge A levels exam in Grade 12.
Apart from the IGCSE and A level certification, Shikha Academy students will leave with a transcript that details additional coursework that has been completed as well as a portfolio of project work created through their journey at the school, vetting by teachers and peers.